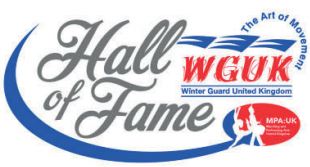 Winterguard is a competitive activity organised in the UK by the charity Marching & Performing Arts United Kingdom (http://www.mpauk.org.uk).
The first British Championships was held in 1980 under the banner of Drum Corps United Kingdom (DCUK) Winterguard. After the 2000 contest season the activity was renamed to Winterguard United Kingdom (WGUK) and its own separate Management Board was created.
In this element of the activity groups of young people perform shows combining dance and group manoeuvring with the use of flags and other hand held equipment all performed to pre-recorded music. It's something that sits alongside but between majorettes, twirlers and rhythmic gymnastics and has to be seen to be believed!
Groups are divided for competitive purposes into 4 classes covering standards from novice to expert. Competitions are held from January to the end of March/early April in sports halls and leisure centres throughout the UK. In the past a Winterguard circuit was run in conjunction with The Irish Marching Band Association with shows held in Dublin, Ireland and for a number of years we have worked very closely with our friends in Holland from Color Guard Netherlands with internationally sanctioned events being held alternately between our two countries.
The Winterguard season reaches its climax with The British Colour Guard Championships which early April each year. Details of this event will appear under the contest section.
The rules for Winterguard are pretty straight forward and this is an activity which can be put 'on the road' at limited cost giving groups the chance to have a great deal of fun and the sense of achievement that teamwork can bring. Planning for each season is always ongoing and enquiries about membership would be welcome at any time.
If you have a colour guard, pom pom or majorette troop and are looking for something to do during the long winter months then this could be for you and you can take part in as much or as little of the season as you wish.
If you're interested in knowing more about this activity please contact WGUK – admin@wguk.org.uk