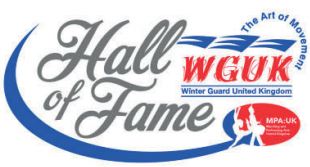 The MPA:UK Hall of Fame for Winter Guard United Kingdom (WGUK) was launched in 2017 and is where the legends of the UK Winter Guard activity are remembered for the indelible impressions they have left on the UK activity.
How to nominate a candidate for the WGUK Hall Of Fame
Anyone can nominate a candidate for the WGUK Hall of Fame and they should submit a letter of nomination together at least two letters of support to the Hall of Fame Chairperson, following these guidelines: : 

Any person who writes a letter of nomination cannot write any other letters of nomination or support in one year. Any person who writes a letter of support for one person cannot also write another letter of support or nomination for any other nominee in the same year. No person may write more than one letter of nomination or one letter of support in any one year. 

1. Include the complete name, address, home and work telephone numbers for the candidate you are nominating. 

2. Explain why you feel this candidate should be considered for membership in the Hall of Fame. Please limit your response to two pages or less.

3. Please document:
a. The background this person has in the Winter Guard activity.
b. This person's contribution to WGUK.
c. This person's example for Winter Guard members.
d. Reasons for Nomination – Their contribution should be substantial either by the length of commitment or through the unique contribution made in the artistic standards, administrative, leadership, or adjudication.
It should be noted that this is recognition for a person impact within WGUK and the overall UK Winter Guard activity and not for recognition for individual Guards and the nomination must reflect this or it will be rejected.
Particular consideration and thought should be given before submitting posthumous nominations for inclusion into the Hall of Fame as such nominations will only be considered in the most exceptional of circumstances.